Weybridge American Black Walnut Wood Flooring 14 x 189 x 1860 (mm)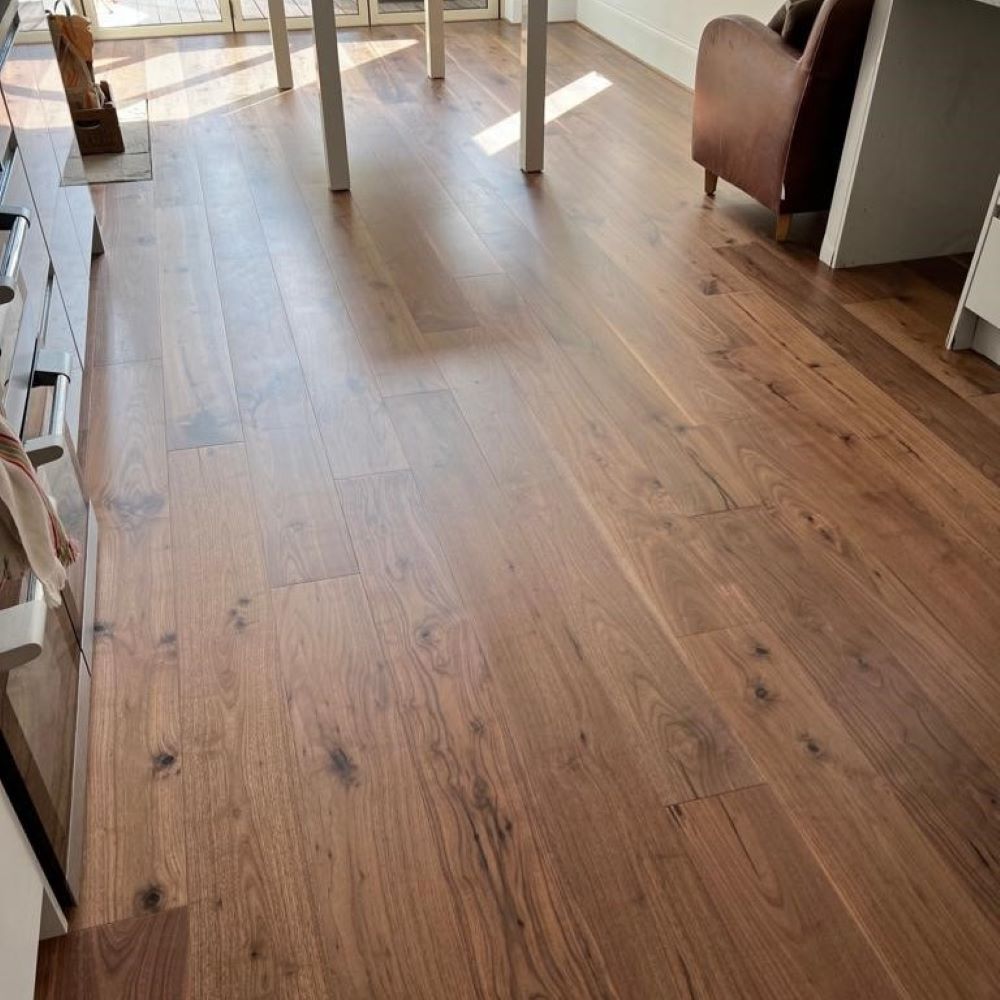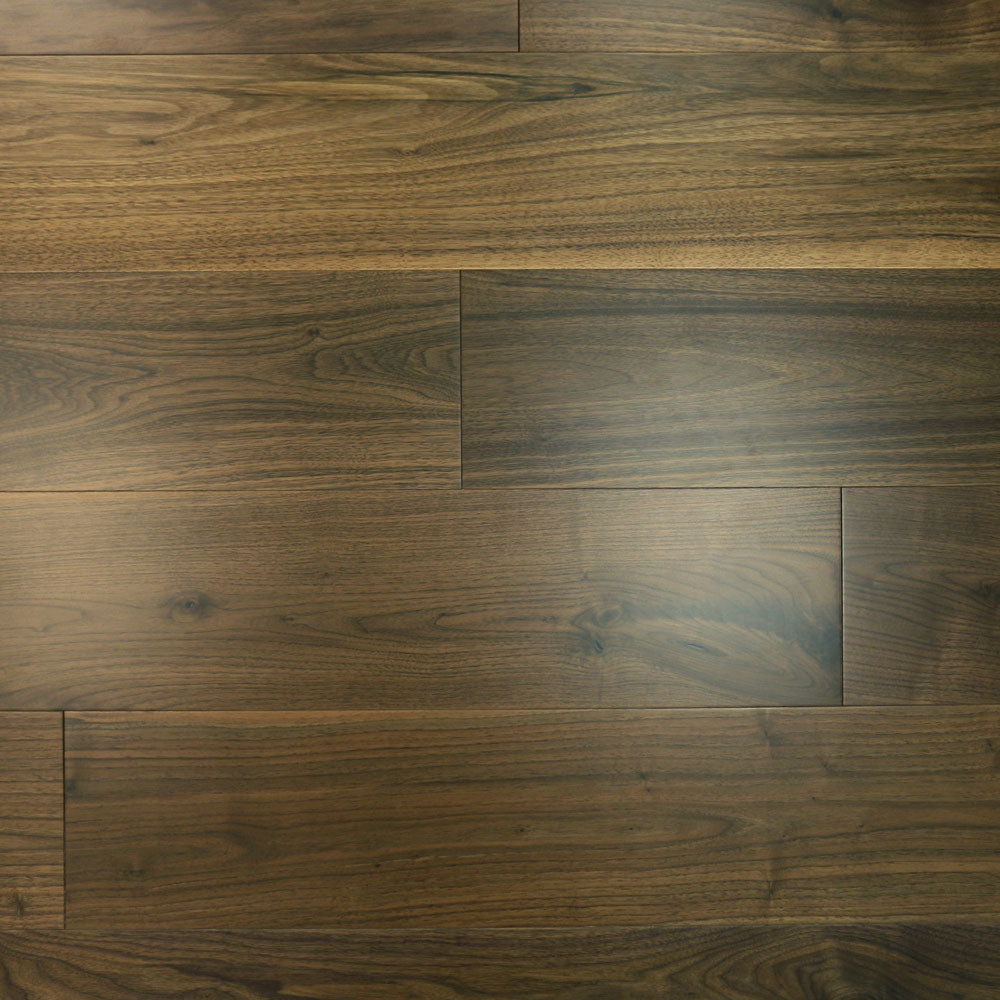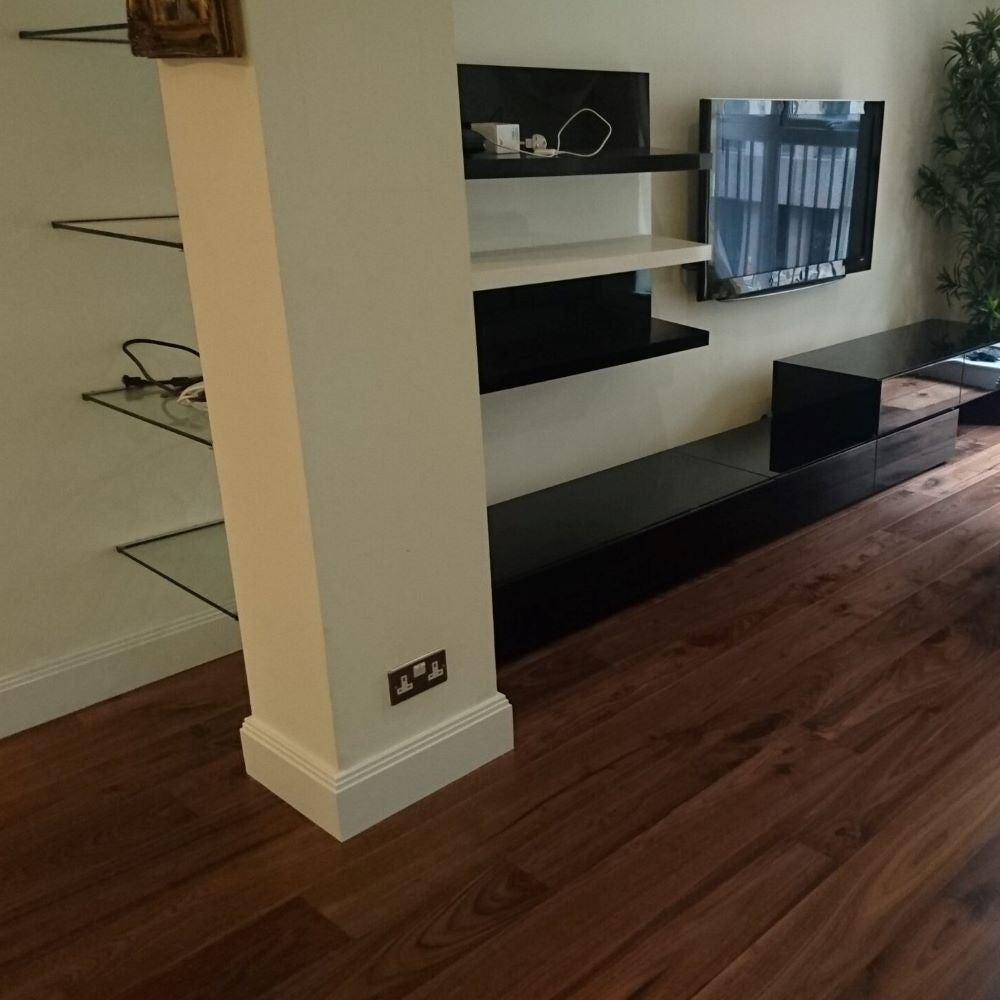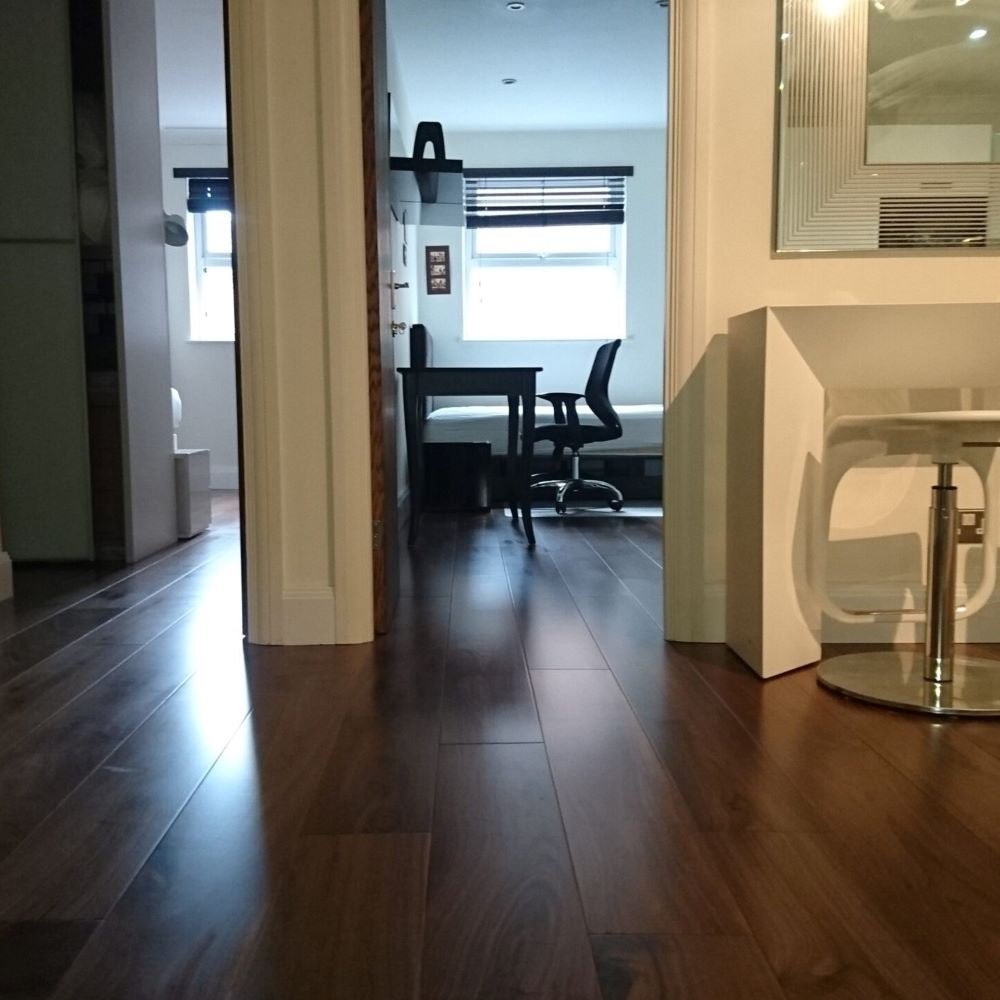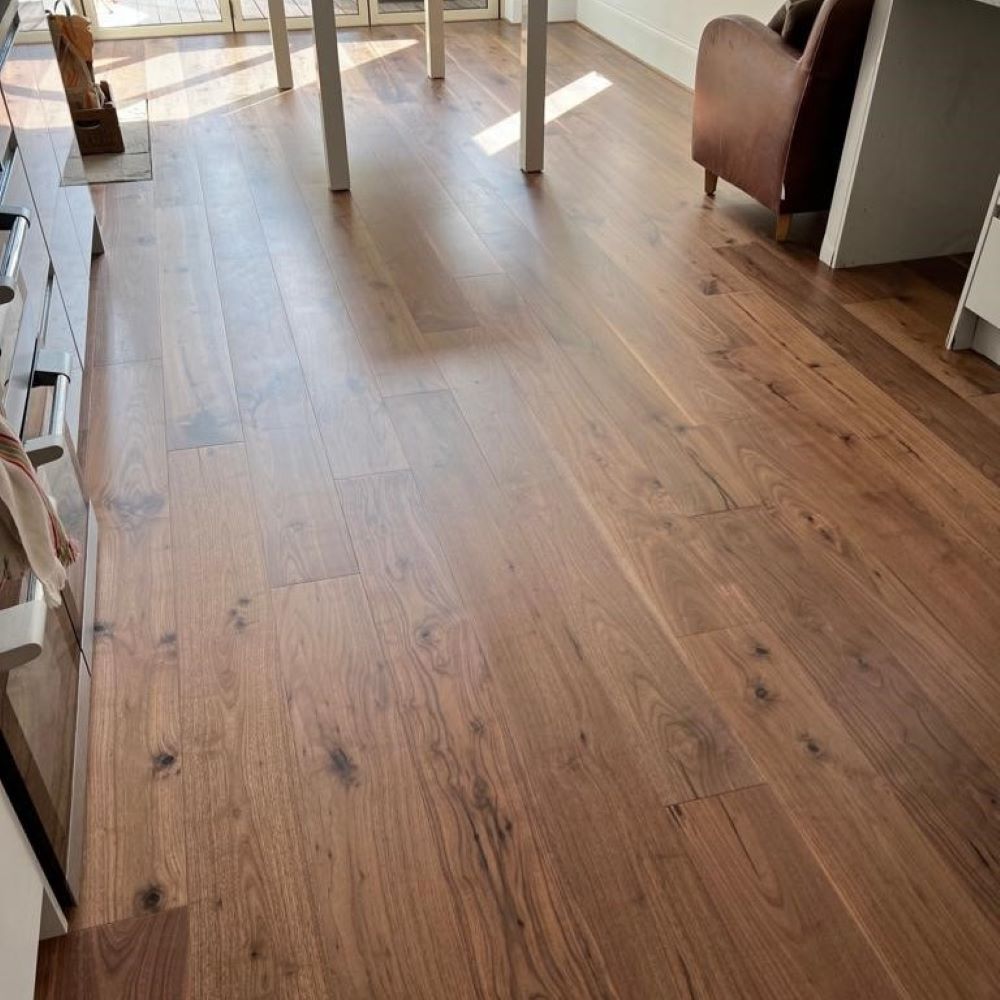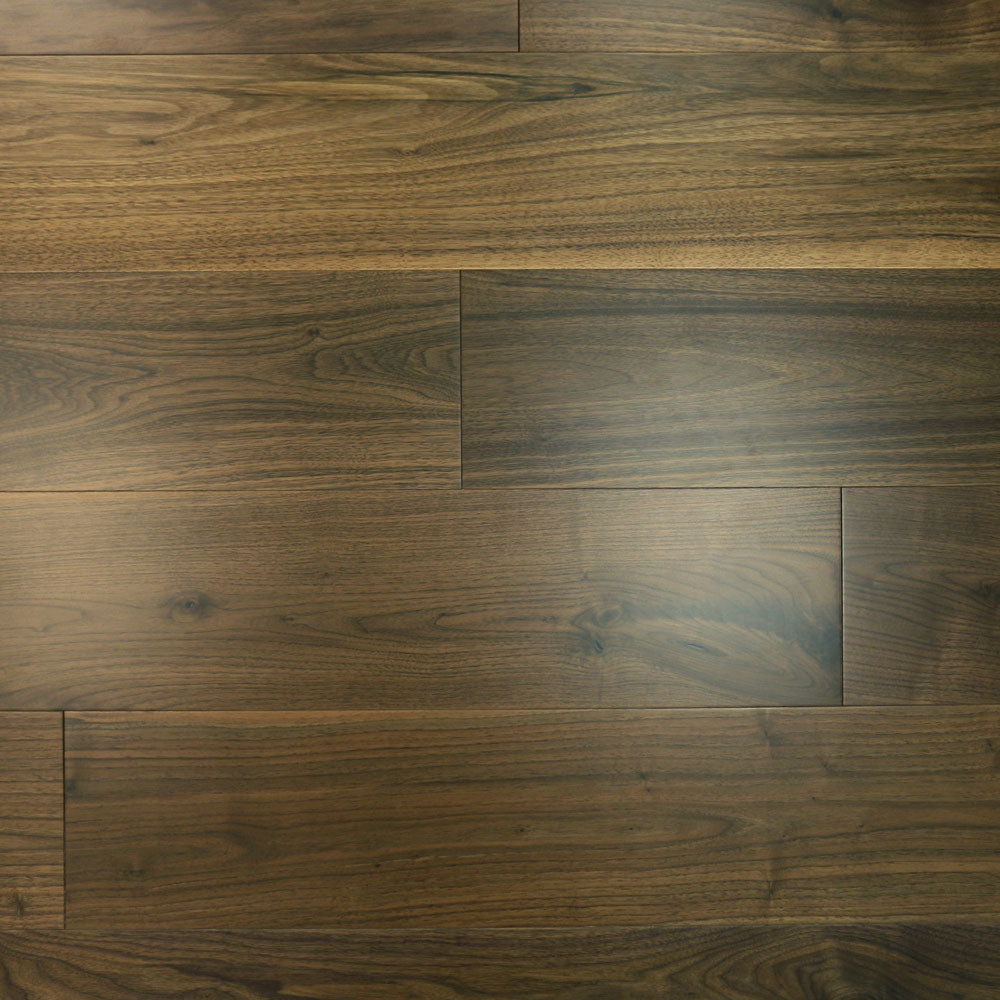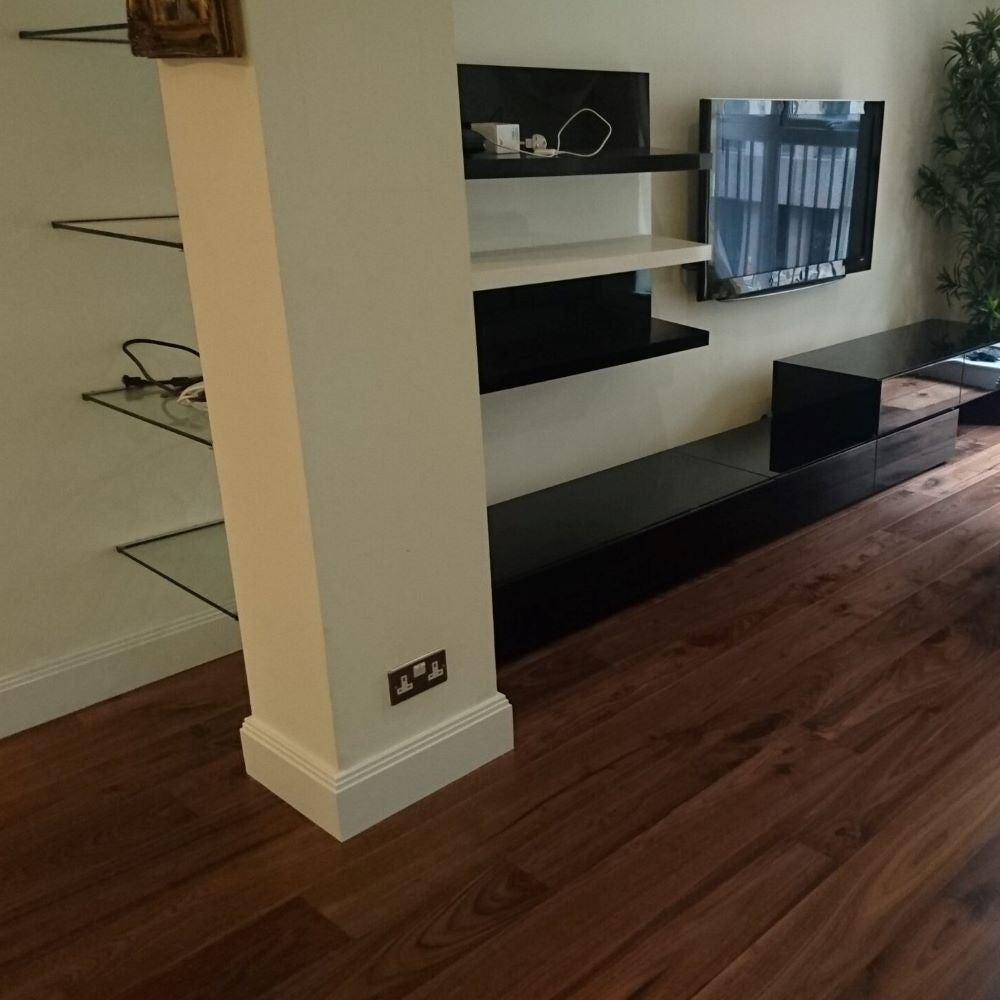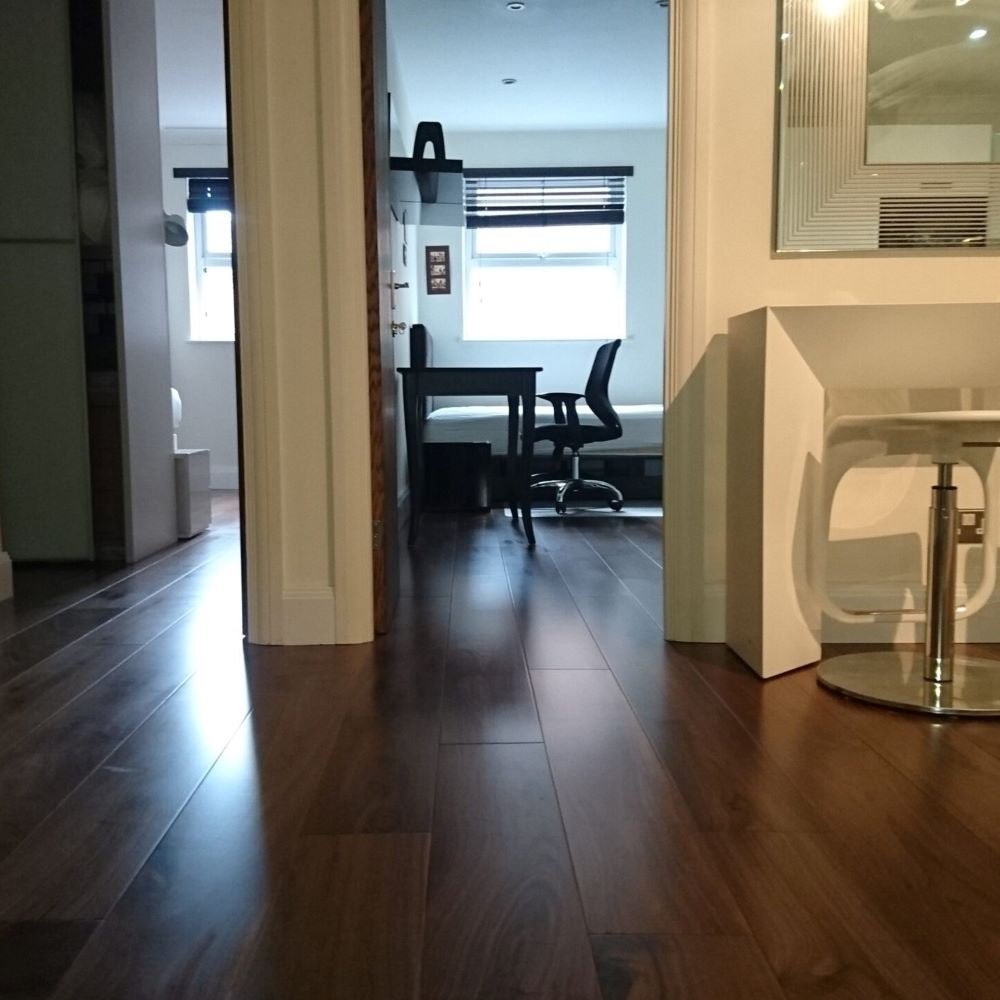 Box Price: £60.00m2 (inc VAT)

Pallet Price: £55.00m2 (inc VAT)


Experience the rich and luxurious beauty of American Black Walnut wood flooring. This exquisite flooring option adds elegance and sophistication to any space. The dark, chocolate-brown tones of the walnut create a dramatic visual impact, while the natural variations in grain patterns add character and charm. Crafted with meticulous attention to detail, this hardwood flooring offers exceptional durability and longevity. With its smooth surface and timeless appeal, American Black Walnut wood flooring is perfect for enhancing both traditional and contemporary interiors. Transform your home or office into a captivating haven of style with this stunning flooring choice.
Specification

Product Code: 447
Species: American Black Walnut
Construction: Engineered
Finish: Lacquered
Colour: Walnut
Plank: Single Strip
Grade: Natural
Installation: Tongue & Groove
Plank Edge: Micro-bevelled
Thickness: 14mm
Oak Layer: 3mm
Width: 189mm
Length: 1860mm
Box Size: 2.109 Square Metres
Pallet Size: 115.995 Square Metres
Boxes in Full Pallet: 55
Origin: Americas
Underfloor Heating: Compatible
Manufacturer's Warranty: 20 Years
Delivery Details

- All free standard samples are sent via Royal Mail. We offer up to 5 samples free after which there is a £5.00 P&P charge.
- All other orders will be delivered via third party pallet courier. Standard charges for untimed 9am-5pm (working days only) pallet deliveries are outlined in pallet charges. Please note that delivery prices will vary to some premium postcodes (such as Scottish Highlands, Channel Islands etc).
- For a timed or weekend delivery please contact us for a quote.
- All '1 pallet space' deliveries entail a single pallet charge. Due to the length of some long pack products (greater than 1200mm in width or length) these products may constitute a '2 pallet space' delivery (e.g. £65.00 x 2 for standard postcodes). Please see details in the specification table. Where possible long packs will be charged as 1 pallet space.
- All pallet deliveries will be 'kerb-side' by truck. Please ensure vehicles have access to point of delivery and if there are any restrictions you MUST inform us at time of order.

Please see below for some pointers or contact us for advice:

- There must be someone at the delivery address on the day of delivery to accept and sign for the order.
- Can a bin lorry access and collect from outside your home/business premises? If yes, then a pallet truck will have no problem gaining road access.
- No obstacles. Free of obstacles that could obstruct delivery (e.g. low hanging tree branches).
- No Inclines. The delivery area should be flat, rather than a slope.
- Delivery should be made on a hard surface not on loose ground such as gravel or grass.
- Turning/Parking space. Is there enough room to park at the kerbside and make delivery? Or if a truck will drive up a narrow road in a cul-de-sac is there ample turning space?
- You MUST advise if there are any parking or time restrictions at the delivery point.
Pallet Charges

All UK postcodes that are not outlined in the list below entail a standard £65.00 (inc VAT) pallet delivery charge.

DG, KA1-26, KA29+, KY postcodes are £85.00 (inc VAT) per pallet space.
DD postcodes are £100.00 (inc VAT) per pallet space.
AB, BT, IV1-40, KW1-14, PH, PO30-41 postcodes are £120.00 (inc VAT) per pallet space.
GY, HS, IM, IV41+, JE, KA27-28, KW15-17, PA20+, ZE postcodes are £175.00 (inc VAT) per pallet space.

Prices and availability for delivery may vary for some products to premium postcodes depending on logistics company.

Deliveries to Europe available. Please contact us for a quote.
Share
View full details